Our most popular wheels, now available with special coloring options!
Choose the wheel style, choose the face color, and choose the lip color.
Unlimited combinations!  We will build a set that suits your tastes!
Please see exclusions list below for possible incompatible combinations.
Special options for "Daemon" wire wheels in smaller sizing available clicking here
Special options for "Cyclone" aero wheels in RWB Porsche sizing available clicking here
—
Wheels are available in standard and larger sizes
Includes a set of 4 wheels.  Choose the sizing you want!
– standard quality rubber tires included
– 2 axles included (press-in axle system, length will require trimming to fit)
Standard/Regular size wheels are ~10.6mm diameter with tire.
Large size wheels are ~12mm diameter with tire.
If the casting you are purchasing these for have larger diameter rear wheels, please choose the "staggered" sizing option.
Some castings have large wheels on all 4 corners, so choose the appropriate option accordingly.
Not for use with Hot Wheels or other diecast track sets.
Some cars may require additional modification to the body in order for the wheels to fit properly and roll.  These wheels are slightly larger and wider compared to standard Hot Wheels sizes, may cause rubbing on body.
EXCLUSIONS & other notes:
– Fuchs style wheels are ONLY available as a standard size wheel.  If staggered or large sizing is chosen for Fuchs, they will be made in standard size.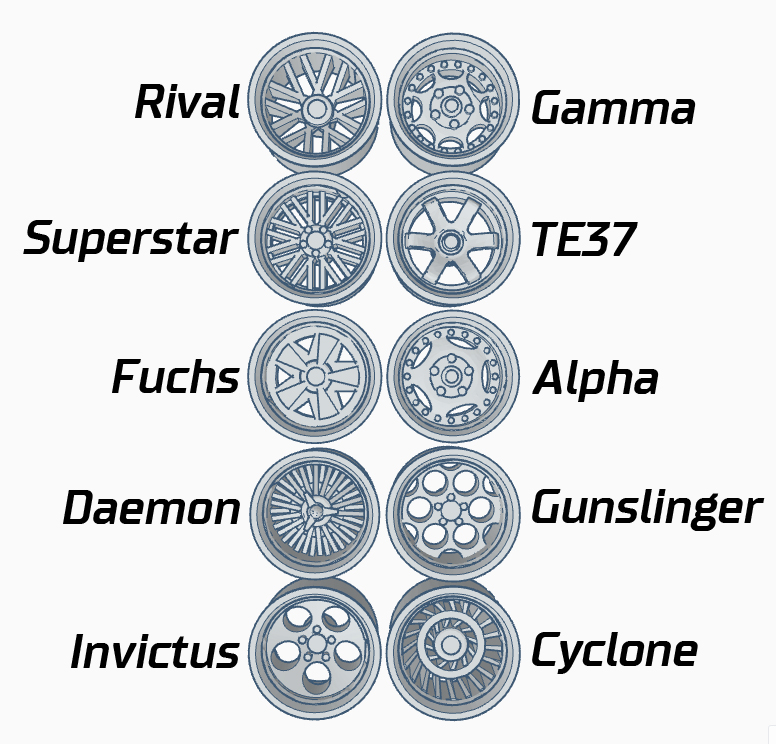 ---